Shopping Cart
Your Cart is Empty
There was an error with PayPal
Click here to try again
Thank you for your business!
You should be receiving an order confirmation from Paypal shortly.
Exit Shopping Cart
As an educator, I'm always looking for new ways to engage and inform my students. When I came across the Flipboard, an on-line platform where people can create and customize their own e-magazines, I immediately recognized its potential as a teaching aid.  No matter what topic you teach, you can create a Flipboard magazine full of information connected to the material you cover in class.
I have spent more than a year populating my e-magazines on Flipboard with a wide variety of relevant news articles, research reports, and opinion pieces.  Here are three that I created for the Social Work and Sexuality courses I teach:
Sexuality and Social Work
Sexuality Concepts for Social Workers is the textbook I co-authored (available at Cognella.com, Amazon.com, and Barnesandnoble.com). Our textbook is full of QR codes that take you to similar articles as the one's you'll find in this Flipboard e-magazine. I teach Sexuality and Social Work courses at West Chester University and Widener University. The articles in this e-magazine are meant to aid in classroom instruction and discussion.
Race, Ethnicity and Culture
I teach a Race Relations class at West Chester University. The articles I collect for this magazine are chosen in order to help students learn more about issues of diversity, and to aid in class instruction and discussion.
Policy, Poverty & Social Work
This is a collection of media resources focusing on policies and issues related to poverty and social inequalities.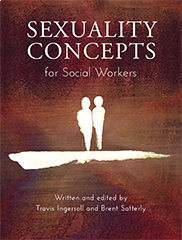 It's finally available! If you found the information in my sexuality blog posts interesting and informative, you'll love having access to all the important and relevant sexuality research and information contained in my textbook!
Here's the link that will show you how to get a free preview of our textbook. You can also order a copy for yourself, or adopt it for a class you teach:
This is how Cognella describes our book:
Description
Sexuality Concepts for Social Workers is a research-informed, reader-friendly guide that helps practitioners address sexuality-related issues with a variety of target patient groups.

Topics covered include the role of values in sexuality, sexual health and reproduction, relationships, sexual orientation, gender and gender identity, sexuality and the lifespan, sex work and sex workers, sexuality in the ill or disabled, and being a sexually healthy adult.

Several features of the book enhance learning, reflection, and critical thinking. Chapters feature discussion questions, implications and applications for real-world practice, case examples, and opinion pieces from each of the authors.

Sexuality Concepts for Social Workers fills a void in the literature of the social work field by giving practitioners a greater degree of sexuality literacy.

The book is a practical tool for those who haven't had the benefit of formal training in human sexuality. It can be used in upper-level undergraduate and foundation year graduate courses on human behavior, sexuality diversity, and human sexuality for social workers.
Biographies:
Travis Ingersoll is a researcher, therapist, and social work professor at West Chester University. He has worked in various areas of social work practice including gerontology, chemical addiction, mental health, domestic abuse, and sexual trauma. Dr. Ingersoll's current policy work focuses on the development and implementation of sexual expression and protection from harm policies for retirement and assisted living facilities.
Brent Satterly is a licensed clinical social worker and holds a Ph.D. in education, specializing in human sexuality and strengths-based social work practice. He is an associate professor at the Center for Social Work Education at Widener University, and the director of the Bachelor's in Social Work program. In 2012, he received the university's Clarence R. Moll Professor of the Year Award.
A comprehensive framework for understanding human sexuality
Sexuality is an essential aspect of being human and contributes to the development of our identity throughout our lives.  As a construct, sexuality is not easily defined.  What do you think when you hearthe word sex?  If "intercourse" is the first thing you think of, congratulations, you're among the norm.  Human sexuality, however, is far more than simply a physical thing.  Although it canbe physical, it is also mental, emotional, relational, biological, spiritual,cultural, and psychological. According to the World Health Organization (WHO,2015), sexuality encompasses sex, gender identities and roles, sexual orientation, eroticism, pleasure, intimacy and reproduction.  Sexuality is experienced and expressed through thoughts, desires, fantasies, beliefs, attitudes, values, behaviors, practices, roles and relationships. Another way to understand human sexuality is through the Circles of Sexuality model, created by Dennis Dailey (1981).  The Circles model utilizes a series ofoverlapping circles to exemplify the unique and organic nature of the various facets of human sexuality. Each component presented in the "circles ofsexuality" model has the ability to interact and affect any/all of the others.
The Circles of Sexuality
As mentioned above, sexuality is much more than just sexual intimacy or sexual behavior. Human sexuality is a significant part of what it means to be human.  It includes our identities, our bodilysensations, our experiences, our relationships, our behaviors, our health, ourpleasure, and many more aspects of oneself. The Circles present a comprehensive approach to human sexuality that includes: Sensuality, Intimacy,Sexual Identity, Sexual Health and Reproduction, and Sexualization (Advocatesfor Youth, 2007).  A final circle,Values, was not in the original model but was introduced by Satterly and Dyson (2010).  The "Values" Circle highlights the importance of examining how our personal values affect our relationship with the different circles; it is the lens by which a person perceives, interpretsand understands all of the Circles of Sexuality.
The Circle of Sensuality is the "body-touch-feel" of sexuality. Sensualityi s our awareness of our bodies and the bodies of others. It incorporates both how we feel about our body and allows us to connect with our own physical and sexual attractions and pleasures. The concepts in this circle include: BodyImage, Pleasure, Skin Hunger, Attraction Templates, Human Sexual Response Cycles, and Fantasy. 
The Circle of Intimacy is all about interpersonal connectedness. Sexual intimacy is the capacity to emotionally connect with another person – to feel close to them– and allow for the closeness to be returned (Advocates for Youth, 2007). Included in this circle are the concepts of sharing, caring, liking or loving another person, emotional risk-taking, and vulnerability.
The Circle of Sexual Identity helps people explore who they are assexual beings. Sexual identity refers to how an individual understands who they actually are as a sexual being, including their sexual orientation and gender. It involves various "intersecting components" that, together, influence how people view themselves (Advocates for Youth, 2007).  Included inthis circle are one's biological sex, core gender, gender role, genderidentity, and sexual orientation.
The Circle of Reproduction and Sexual Healthrefers to an individual's ability (or inability) to reproduce and function sexually. It also includes the attitudes and behaviors leading toward healthy and pleasurable sexual relationships (Advocates for Youth, 2007).  According to the WHO (2015), sexual health is "…a state of physical, emotional, mental and social well-being in relation to sexuality; it is not merely the absence ofdisease, dysfunction or infirmity. Sexual health requires a positive and respectful approach to sexuality and sexual relationships, as well as the possibility of having pleasurable and safe sexual experiences, free of coercion, discrimination and violence.  In order for sexual health to be attained and maintained, the sexual rights of all persons must be respected, protected and fulfilled" (WHO, 2006a, para. 4).  Included in this circle is factual information about reproduction, sexual intercourse, reproductive and sexual anatomy, sexual reproduction, and our feelings and attitudes regarding all the above.
The Circle of Sexualization refers to all the ways in which we use our sexuality.  Sexualization includes the various ways in which we can use our sexuality in order to control, influence or manipulate others. Such behaviors vary considerably, ranging from flirting and seduction to abuse and rape. No one has the right to sexually exploit others. Included in this circle are behaviors such as flirting, seduction, sexual harassment, rape and incest.  Some of the behaviors just mentioned, particularly "flirting" and "seduction" can have a positive or negative impact depending on the intention of the person engaging in such behavior, as well asthe way in which the person on the receiving end interprets the behavior.
The Circle of Values puts the focus on how we, as individuals, perceive, interpret, and understand all the other circles (Satterly & Dyson, 2010).  Schwartz (1996) defines values as the "guiding principles in people's lives" (p. 2) that influence an individual's perception of right and wrong, and their subsequent and related behaviors. However, an individual's values may differ from what is considered mainstream values. Forexample, the "culture wars" that permeate Western societies around the world regarding sexuality issues such as homosexuality or abortion, are rife with disparate claims of right and wrong. An individual may view homosexuality as anormative and natural variation of sexual orientation; conversely, some cultural messages may assert that homosexuality is evil and must be punished. Such conflicting viewpoints can create significant tensions in public debates around social policies, as well as the ways in which people experience their own sexual orientation (Satterly & Ingersoll, 2015).
As theprevious examples have demonstrated, human sexuality is a multidimensional construct encompassing far more than just penetrative sex. Sexuality has many different elements, and can mean different things to different people.  For older adults, sexuality can be as much about intimate touch and kissing, cuddling, masturbation or sexual intercourseas it can be about looking and feeling one's best, companionship, engaging insexually explicit communication (i.e., "talking dirty" or "pillow talk"), and enjoying erotically-charged literature and movies (Bauer, McAuliffe, & Nay,2007; Nay, 2004).  However the unfortunate reality is that in many cultures around the world, there exists an oppressive cloud of negativity and judgment surrounding any and all manifestations of older adult sexuality.
(*This is from an upcoming chapter I am writing in a Nursing textbook due to be released in Australia in 2016. The chapter focusses on Intimacy in Older Adulthood)
References:
Bauer, M., McAuliffe, L., & Nay, R. (2007).  Sexuality, health care and the older person:An overview of the literature. International Journal of Older PeopleNursing, 2, 63-68.
Dailey, D. (1981). Sexualexpression and ageing. In F. Berghorn & D. Schafer (Eds.), The dynamics of
ageing: Original essays onthe process and experiences of growing old (pp. 311-330). Boulder, CO:
Westview Press.
Nay, R. (2004). Sexuality and older people. In NursingOlder People: Issues and Innovations, 2 ed. (Nay
R. & GarrattS. eds.). Elsevier, Marrickville, NSW, p. 276-288.
Satterly, B. A., & Dyson, D. A. (2010).  Social work practice with gay, lesbian,bisexual, and transgendered
persons. In J.Poulin (Ed.), Collaborative social work:Strengths-based generalist practice (3 ed.).
Belmont, CA:Wadsworth.
Satterly, B., & Ingersoll, T. (2015). Sexuality Concepts for Social Workers. SanFrancisco, CA: Cognella
AcademicPublishing, Inc.
Schwartz, S. H. (1996). Value priorities and behavior: Applying a theory of integrated valuesystems. In
. Seligman, J.M. Olson, & M. P. Zanna (Eds.), Thepsychology of values: The Ontario Symposium (Vol.
8, p. 1-24). Mahwah, NJ: Erlbaum.
World Health Organization (WHO).(2015). Sexual and reproductive health. RetrievedJune 18, 2015, 
from the WHO Web site:
I've done so much research about various topics related to human sexuality, that I feel it would be a huge waste to just let all my papers collect digital dust within my computer files. So... I've decided to embark on a project to upload all of my interesting research papers written as a graduate student studying human sexuality and social work.  The following link will take you to a Scribd.com web-page offering a variety of papers you can read.
/