Shopping Cart
Your Cart is Empty
There was an error with PayPal
Click here to try again
Thank you for your business!
You should be receiving an order confirmation from Paypal shortly.
Exit Shopping Cart
The information below will soon be added to Chapter 11 (Special Topics: Illness, Disability and Sexuality) in my textbook "Sexuality Concepts for Social Workers."  
Cancer patients and their significant others would undeniably benefit from counseling and comprehensive discourse pertaining to the challenges facing their sexuality. To meet these important needs, there exists a variety of curriculum available for social workers and health care professionals to utilize. The ALARM, PLEASURE, PLISSIT, and BETTER educational models can all be extremely useful to health care providers when confronted with the sexual health concerns of their patients. Common themes incorporated within these models include; bringing up and giving patients permission to discuss sexuality; explaining sexuality as an integral aspect of healthy living; communicating that issues surrounding sexuality can be brought up at any time; reviewing and combating the sexual side effects of treatment, and referring patients to sex therapists.
Useful Models for Sexual Health Assessment
ALARM
The ALARM model (Anderson, 1990), which appears to incorporate and expand on Kaplan's (1979, 1995) triphasic model of sexual response, is one useful model of communication and assessment regarding sex and the sexual activities of clients. ALARM inquires about each stage of sexual activity along with the client's medical history. ALARM stands for Activity, Libido (desire), Arousal, Resolution, and Medical Information. The social worker (or other human service professional) begins by assessing the client's sexual activity level prior to the point at which the identified problem or medical illness began, following up with an evaluation of changes in libido that may be causing, prolonging, or exacerbating the sexual problem the client is experiencing. Because this approach focusses primarily on the behavioral and physical aspects of sexuality, it may overlook other important domains, such as intimacy, sexual anxiety, emotional connection, and self-image (Hordern, 2008).
PLEASURE
The PLEASURE model includes the assessment and evaluation of sexual attitudes, emotions, and activities; level of energy; current treatment and disease side effects; and incorporates the client's understanding of actual and potential sexual dysfunctions and issues related to reproduction. Specifically, the PLEASURE model assesses the following topics and develops interventions based on identified issues and concerns: Partner, Lovemaking, Emotions, Attitudes, Symptoms, Understanding, Reproduction, and Energy (Schain, 1988).
PLISSIT
The PLISSIT Model was designed by Annon (1976) as a step-by-step method for gathering sexual health information. PLISSIT stands for Permission, Limited Information, Specific Suggestions, and Intensive Therapy. This model has been recommended as a useful template for the assessment of sexuality and sexual health in palliative care settings (Cort, Monroe, & Oliviere, 2004; Stausmire, 2004); and Claiborne and Rizzo (2006) have asserted that PLISSIT is particularly suited for social workers. The model provides the practitioner with a general framework on how to initiate a dialogue about sexual issues and hot to continue the discussion if warranted. This approach is versatile and can be applied to a wide range of illnesses, situations, and settings – both outpatient and inpatient. According to this model, the latter levels of treatment build upon the previous ones. However, the social worker (or other human service professional) can move back and forth between the levels of treatment based on the client's needs. The PLISSIT levels progress as follows:
Permission - Permission can be interpreted to mean either asking for permission to evaluate or giving the person permission to discuss sexuality. "Would it be all right if I asked you about your sexual history?" "Is it ok if I asked you some questions about how your medication(s) has affected your sexual health?" Asking permission puts the individual in control. Such questions should be followed with a series of open-ended questions specific to sexual health: What concerns do you have? What changes have you had in your feelings about sexuality? In relation to your sexual health, what are things you'd like to have change for the better? The assessor might ask permission to have the person's spouse or partner join the discussion as well. By doing this, social workers are offering clients and partners permission to both have and discuss sexual concerns. Giving permission not only provides opportunities for people to voice sexual concerns, it also validates and normalizes their desire to engage in, or refrain from, sexual activity (Annon, 1976).
Limited Information - This step involves providing brief education to clients and partners regarding common sexual side effects associated with an illness and its treatment, including etiology, pathology, and complications. This information may be given in a short period of time or over several brief meetings to share accurate and relevant information about client and partner concerns. The health and human service professional can also provide the individual with current and accurate information regarding the factors that may be affecting their sexuality.
Specific Suggestions - Based on the individual's responses to open-ended questions the social worker or other health care professional can then make suggestions for a plan of care. For example, clients are provided with concrete suggestions on how to cope with changes in sexual function due to an illness or surgery. If a client is partnered, it may be best to see the couple together to understand the causes and dynamics of the problem and then explore possible solutions (Monturo, Rogers, Coleman, Robinson, & Pickett, 2001). Social workers may also benefit from examining how the client explored or expressed their sexuality prior to the diagnosis or presenting problem, and how sexual pleasure was achieved. Some clients or their partners may express feelings of guilt, grief, resentment, or anger resulting from the inability to achieve the level of sexual pleasure they would like to experience (Claiborne & Rizzo, 2006). This is particularly applicable during advanced disease and at the end of one's life, as patients' losses and recognitions of changes in their sexual selves may by exacerbated by the physical deterioration and alienation they may be experiencing.
Intensive Therapy - This final level addresses ongoing concerns and may necessitate a referral to a sex therapist or relationship counselor. A small minority of cases may require this type of intervention. For example, it has been estimated that only 30 percent of people will need this last level of the PLISSIT model, since the majority of sexual function problems are resolved by providing permission, limited information, and specific suggestions (Derogatis & Kourlesis, 1981).
More recently, Tayor and Davis (2006) modified Annon's (1976) through the development of the extended PLISSIT model (or Ex-PLISSIT). The Ex-PLISSIT model suggests that the "permission" level should involve requesting permission to discuss sexual issues as well as providing permission for a person to be a sexual being, and this should be incorporated into each level of the model (Taylor & Davis, 2006). Therefore, when assessing a client, a social worker would offer permission in conjunction with limited information, specific suggestions, and a referral to intensive therapy. Another useful application of the Ex-PLISSIT model is its integration of reflection and review by the social worker (or health care professional) after every interaction with the client. 
This step holds the practitioner accountable for their own interactions, biases, and reactions to the client. It also encourages the client to provide continual feedback and review. Incorporating these two additional steps of permission giving into each level of the PLISSIT model and designating time for reflection and review allow for practitioner accountability during a patient-centered assessment of sexual health needs.
BETTER
BETTER is an acronym for Bringing up the topic of sexuality; Explaining to the client or partner that sexuality is a part of quality of life; Telling the client about resources available to them (as well as gauging the social worker's ability and willingness to assist in addressing questions and concerns); Timing the discussion to when the patient would prefer, not only when it's convenient for the human service practitioner; and Recording that the conversation took place and any follow-up plans to further address client concerns or questions (Mick & Cohen, 2003; Mick, Hughes, & Cohen, 2004). However, this approach may not adequately emphasize the need for psychotherapeutic interventions or referrals to specialists (e.g., Sex Therapists, Urologists, Family and Marriage Therapists, etc.).
References
Anderson, B. L. (1990). How cancer affects sexual functioning. Oncology, 4(6), 81-88.
Annon, J. (1976). The PLISSIT model: A proposed conceptual scheme for the behavioral
treatment of sexual problems. Journal of Sex Education and Therapy, 2(2), 1-15.
Claiborne, N., & Rizzo, V. M. (2006). Addressing sexual issues in individuals with chronic health conditions [Practice Forum]. Health & Social Work, 31, 221-224.
Cort, E., Monroe, B., & Oliviere, D. (2004). Couples in palliative care. Sexual and Relationship Therapy, 19, 337-354.
Derogatis, L, & Kourlesis, S. (1981). An approach to evaluation of sexual problems in the cancer patient. CA: A Cancer Journal for Clinicians, 31, 45-50.
Horndern, A. (2008). Intimacy and sexuality after cancer: A critical review of the literature. Cancer Nursing, 31(2), E9-E17.
Kaplan, H. S. (1979). The disorders of sexual desire. New York: Brunner/Mazel.
Kaplan, H. S. (1995). The sexual desire disorders: Dysfunctional regulation of sexual motivation. New York: Routledge.
Mick, J., & Cohen, M. Z. (2003). Sexuality and cancer: A BETTER approach to nursing
assessment of patient's sexuality concerns. Hematology Oncology News and Issues, 2(10), 30-31.
Mick, J. A., Hughes, M., & Cohen, M. Z. (2004). Using the BETTER model to assess sexuality. Clinical Journal of Oncology Nursing, 8, 84-86.
Monturo, C. A., Rogers, P. D., Coleman, M., Robinson, J. P., & Pickett, M. (2001). Beyond sexual assessment: Lessons learned from couples post-radical prostatectomy. Journal of the American Academy of Nurse Practitioners, 13, 511-516.
Schain, W. (1988). A sexual interview is a sexual intervention. Innovative Oncological Nursing, 4(2-3), 15.
Stausmire, J. M. (2004). Sexuality at the end of life. Journal of Hospice and Palliative Care, 21, 33-39.
Taylor, B., & Davis, S. (2006). Using the extended PLISSIT model to address sexual health care needs. Nursing Standard, 21(11), 35-40.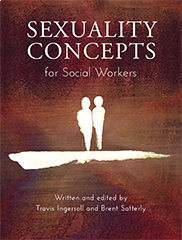 It's finally available! If you found the information in my sexuality blog posts interesting and informative, you'll love having access to all the important and relevant sexuality research and information contained in my textbook!
Here's the link that will show you how to get a free preview of our textbook. You can also order a copy for yourself, or adopt it for a class you teach:
This is how Cognella describes our book:
Description
Sexuality Concepts for Social Workers is a research-informed, reader-friendly guide that helps practitioners address sexuality-related issues with a variety of target patient groups.

Topics covered include the role of values in sexuality, sexual health and reproduction, relationships, sexual orientation, gender and gender identity, sexuality and the lifespan, sex work and sex workers, sexuality in the ill or disabled, and being a sexually healthy adult.

Several features of the book enhance learning, reflection, and critical thinking. Chapters feature discussion questions, implications and applications for real-world practice, case examples, and opinion pieces from each of the authors.

Sexuality Concepts for Social Workers fills a void in the literature of the social work field by giving practitioners a greater degree of sexuality literacy.

The book is a practical tool for those who haven't had the benefit of formal training in human sexuality. It can be used in upper-level undergraduate and foundation year graduate courses on human behavior, sexuality diversity, and human sexuality for social workers.
Biographies:
Travis Ingersoll is a researcher, therapist, and social work professor at West Chester University. He has worked in various areas of social work practice including gerontology, chemical addiction, mental health, domestic abuse, and sexual trauma. Dr. Ingersoll's current policy work focuses on the development and implementation of sexual expression and protection from harm policies for retirement and assisted living facilities.
Brent Satterly is a licensed clinical social worker and holds a Ph.D. in education, specializing in human sexuality and strengths-based social work practice. He is an associate professor at the Center for Social Work Education at Widener University, and the director of the Bachelor's in Social Work program. In 2012, he received the university's Clarence R. Moll Professor of the Year Award.
A comprehensive framework for understanding human sexuality
Sexuality is an essential aspect of being human and contributes to the development of our identity throughout our lives.  As a construct, sexuality is not easily defined.  What do you think when you hearthe word sex?  If "intercourse" is the first thing you think of, congratulations, you're among the norm.  Human sexuality, however, is far more than simply a physical thing.  Although it canbe physical, it is also mental, emotional, relational, biological, spiritual,cultural, and psychological. According to the World Health Organization (WHO,2015), sexuality encompasses sex, gender identities and roles, sexual orientation, eroticism, pleasure, intimacy and reproduction.  Sexuality is experienced and expressed through thoughts, desires, fantasies, beliefs, attitudes, values, behaviors, practices, roles and relationships. Another way to understand human sexuality is through the Circles of Sexuality model, created by Dennis Dailey (1981).  The Circles model utilizes a series ofoverlapping circles to exemplify the unique and organic nature of the various facets of human sexuality. Each component presented in the "circles ofsexuality" model has the ability to interact and affect any/all of the others.
The Circles of Sexuality
As mentioned above, sexuality is much more than just sexual intimacy or sexual behavior. Human sexuality is a significant part of what it means to be human.  It includes our identities, our bodilysensations, our experiences, our relationships, our behaviors, our health, ourpleasure, and many more aspects of oneself. The Circles present a comprehensive approach to human sexuality that includes: Sensuality, Intimacy,Sexual Identity, Sexual Health and Reproduction, and Sexualization (Advocatesfor Youth, 2007).  A final circle,Values, was not in the original model but was introduced by Satterly and Dyson (2010).  The "Values" Circle highlights the importance of examining how our personal values affect our relationship with the different circles; it is the lens by which a person perceives, interpretsand understands all of the Circles of Sexuality.
The Circle of Sensuality is the "body-touch-feel" of sexuality. Sensualityi s our awareness of our bodies and the bodies of others. It incorporates both how we feel about our body and allows us to connect with our own physical and sexual attractions and pleasures. The concepts in this circle include: BodyImage, Pleasure, Skin Hunger, Attraction Templates, Human Sexual Response Cycles, and Fantasy. 
The Circle of Intimacy is all about interpersonal connectedness. Sexual intimacy is the capacity to emotionally connect with another person – to feel close to them– and allow for the closeness to be returned (Advocates for Youth, 2007). Included in this circle are the concepts of sharing, caring, liking or loving another person, emotional risk-taking, and vulnerability.
The Circle of Sexual Identity helps people explore who they are assexual beings. Sexual identity refers to how an individual understands who they actually are as a sexual being, including their sexual orientation and gender. It involves various "intersecting components" that, together, influence how people view themselves (Advocates for Youth, 2007).  Included inthis circle are one's biological sex, core gender, gender role, genderidentity, and sexual orientation.
The Circle of Reproduction and Sexual Healthrefers to an individual's ability (or inability) to reproduce and function sexually. It also includes the attitudes and behaviors leading toward healthy and pleasurable sexual relationships (Advocates for Youth, 2007).  According to the WHO (2015), sexual health is "…a state of physical, emotional, mental and social well-being in relation to sexuality; it is not merely the absence ofdisease, dysfunction or infirmity. Sexual health requires a positive and respectful approach to sexuality and sexual relationships, as well as the possibility of having pleasurable and safe sexual experiences, free of coercion, discrimination and violence.  In order for sexual health to be attained and maintained, the sexual rights of all persons must be respected, protected and fulfilled" (WHO, 2006a, para. 4).  Included in this circle is factual information about reproduction, sexual intercourse, reproductive and sexual anatomy, sexual reproduction, and our feelings and attitudes regarding all the above.
The Circle of Sexualization refers to all the ways in which we use our sexuality.  Sexualization includes the various ways in which we can use our sexuality in order to control, influence or manipulate others. Such behaviors vary considerably, ranging from flirting and seduction to abuse and rape. No one has the right to sexually exploit others. Included in this circle are behaviors such as flirting, seduction, sexual harassment, rape and incest.  Some of the behaviors just mentioned, particularly "flirting" and "seduction" can have a positive or negative impact depending on the intention of the person engaging in such behavior, as well asthe way in which the person on the receiving end interprets the behavior.
The Circle of Values puts the focus on how we, as individuals, perceive, interpret, and understand all the other circles (Satterly & Dyson, 2010).  Schwartz (1996) defines values as the "guiding principles in people's lives" (p. 2) that influence an individual's perception of right and wrong, and their subsequent and related behaviors. However, an individual's values may differ from what is considered mainstream values. Forexample, the "culture wars" that permeate Western societies around the world regarding sexuality issues such as homosexuality or abortion, are rife with disparate claims of right and wrong. An individual may view homosexuality as anormative and natural variation of sexual orientation; conversely, some cultural messages may assert that homosexuality is evil and must be punished. Such conflicting viewpoints can create significant tensions in public debates around social policies, as well as the ways in which people experience their own sexual orientation (Satterly & Ingersoll, 2015).
As theprevious examples have demonstrated, human sexuality is a multidimensional construct encompassing far more than just penetrative sex. Sexuality has many different elements, and can mean different things to different people.  For older adults, sexuality can be as much about intimate touch and kissing, cuddling, masturbation or sexual intercourseas it can be about looking and feeling one's best, companionship, engaging insexually explicit communication (i.e., "talking dirty" or "pillow talk"), and enjoying erotically-charged literature and movies (Bauer, McAuliffe, & Nay,2007; Nay, 2004).  However the unfortunate reality is that in many cultures around the world, there exists an oppressive cloud of negativity and judgment surrounding any and all manifestations of older adult sexuality.
(*This is from an upcoming chapter I am writing in a Nursing textbook due to be released in Australia in 2016. The chapter focusses on Intimacy in Older Adulthood)
References:
Bauer, M., McAuliffe, L., & Nay, R. (2007).  Sexuality, health care and the older person:An overview of the literature. International Journal of Older PeopleNursing, 2, 63-68.
Dailey, D. (1981). Sexualexpression and ageing. In F. Berghorn & D. Schafer (Eds.), The dynamics of
ageing: Original essays onthe process and experiences of growing old (pp. 311-330). Boulder, CO:
Westview Press.
Nay, R. (2004). Sexuality and older people. In NursingOlder People: Issues and Innovations, 2 ed. (Nay
R. & GarrattS. eds.). Elsevier, Marrickville, NSW, p. 276-288.
Satterly, B. A., & Dyson, D. A. (2010).  Social work practice with gay, lesbian,bisexual, and transgendered
persons. In J.Poulin (Ed.), Collaborative social work:Strengths-based generalist practice (3 ed.).
Belmont, CA:Wadsworth.
Satterly, B., & Ingersoll, T. (2015). Sexuality Concepts for Social Workers. SanFrancisco, CA: Cognella
AcademicPublishing, Inc.
Schwartz, S. H. (1996). Value priorities and behavior: Applying a theory of integrated valuesystems. In
. Seligman, J.M. Olson, & M. P. Zanna (Eds.), Thepsychology of values: The Ontario Symposium (Vol.
8, p. 1-24). Mahwah, NJ: Erlbaum.
World Health Organization (WHO).(2015). Sexual and reproductive health. RetrievedJune 18, 2015, 
from the WHO Web site:
A good sexuality policy for retirement and assisted living facilities espouses the ideal that all people, of all ages, deserve and are entitled to a superior quality of life.  Creation of a sexuality policy which gives sanction to sexual expression, while taking into consideration the realities of residents with different levels of cognitive and physical impairment, would achieve such an ideal.  In our society sex and desire are falsely believed to be solely the realm of the young and able.  A common, yet incorrect assumption is that older people are asexual, over-sexual (primarily due to mental illness), and heterosexual by default. For the benefit of our aging population's well-being, such outdated belief systems need to be challenged and changed. There is a long and on-going history of sexual oppression within the United States (and around the world). For many generations people have primarily associated sexuality with physical attractiveness, procreation and marriage.  Sex outside of marriage, and for reasons other than breeding, have historically been criticized on moral grounds.  
Even though attitudes in America are moving toward a more positive and healthy outlook on sexual development throughout the lifespan, there still exists a pervasive air of negativity surrounding elderly sexuality.  These oppressive attitudes toward elderly sexuality are commonly demonstrated by administrative policies, children of residents, and by staff of residential communities and nursing homes.  However, societal attitudes toward elderly sexuality are are evidently beginning to change.  Recent studies indicate that older Americans increasingly view sexual expression to be a positive, pleasurable, and healthy aspect of their lives. 

A lack of understanding from health professionals about older adult sexuality may foster an environment that attempts to coerce the elderly to conform to society's oppressive expectations, particularly so for older women.  With the current population of elderly living in nursing homes to be around 1.6 million and rising, geriatric care will have to adapt to the ever changing characteristics of the people it serves. The new generation of people entering long-term care facilities will likely demand more from their service providers, especially with regards to personal privacy.  We will also likely have more residents coming to geriatric residential facilities for which cohabitation was a suitable prelude or option to marriage, and for whom sexual relationships outside of marriage is more acceptable.  In addition there is a growing need for residential facilities to recognize and accommodate the needs of gay, lesbian, bisexual, transgender, and intersex clients.  The challenge will be for residential care facilities to properly educate their employees about elderly sexuality in all its forms, and to have policies in place which will ensure optimum sexual, physical and spiritual health for their residents.

We owe it to our aging population to provide them with a sense of comfort and peace in their final years.  The last days of our aging population, who have built the foundations on which we all stand, should be free from oppression of any kind.  It is our duty to put aside our moralistic judgments about sexuality, as well as our adherence to negative ageism, and to think about what's best for the aging people which we serve.  The research has demonstrated time and time again, what our elderly have consistently communicated to us is that sexuality continues throughout the lifespan and is an important part of human health and well-being.  It's time we all began to listen.
P.S. If you have a device that uses apps, go to   https://flipboard.com/ and download the FREE App.  After it's been downloaded to your device, type in "Travis Sky Ingersoll" in the search box and you'll find three magazines I've created designed to be of interest and use to Social Work Educators, social worker students, and human service professionals.  The magazine I've spent the most time working on, and am the proudest of, is the "Sexuality and Social Work" magazine. It's packed with useful resources and articles! Check it out and put it to good use! :)
- Dr. Ingersoll
References
-
Aizenberg, D., Weizman, A., and Barak, Y. (2002). Attitudes toward sexuality among
     nursing home residents. Sexuality and Disability, 20, 3, 185-189.
Bach, L. E., Mortimer, J. A., VandeWeerd, C., & Corvin, J. (2013).  The association of    physical and mental health with sexual activity in older adults in a retirement community. The Journal of Sexual Medicine, 10(11), 2671-2678.
Benbow, S., and Jagus, C. (2002).  Sexuality in older women with mental health
     problems. Sexual and Relationship Therapy, 17(3), 261-270.  
Brown, L. (1989).  Is there sexual freedom for our aging population in long care
     institutions?  Journal of Gerontological Social Work, 13, 750-793.
Callan, M. R. (2006). Providing aged care services for the gay and lesbian
     community. Australian Nursing Journal, 14, 4, 20-20.
Clements, M. (1996). Sex after 65. Parade Magazine, 7, 4-5.
Mayers, K. S., and McBride, D. (1998). Sexuality training for caretakers of geriatric
     residents in long term care facilities.  Sexuality and Disability, 16, 3, 227-236.
Reingold, J. et.al. (1995). Creation of a training program regarding residents   
     sexuality. Paper Presented at the Eleventh Annual International International

Reingold, D., and Burros, N. (2004). Sexuality in the nursing home. Journal of
     Gerontological Social Work, 43(2/3), 175-186.
     Conference of the Alzheimer's Disease, International, Buenos Aires, Argentina.
Richardson, J. P., and Lazur, A. (1995).  Sexuality in the nursing home patient.
     American Family Physician, 51, 1, 121-124.
Schick, V., Herbenick, M. P. H., Reece, M., Sanders, S. A., Dodge, B., Middlestadt, S. E., & Fortenberry, J. D. (2010).  Sexual behaviors, condom use, and sexual health of Americans over 50: Implications for sexual health promotion for older adults. The Journal of Sexual Medicine, 7(5), 315-329.
What exactly is premenstrual syndrome? A syndrome is a group of symptoms that
occur together, and in the case of PMS those symptoms are in relation to the female
menstrual cycle. With PMS, physical symptoms may include cramps, dizziness,
backache, fatigue, nausea, a tingling in the extremities, abdominal bloating, breast
tenderness, breast swelling, change in appetite, thirst, edema, and increased body weight.
Psychoemotional symptoms may include anxiety, tension, irritability, depression, mood
swings, crying spells, decreased interest, insomnia, feeling out of control, and an
inability to concentrate (Backstrom et al., 2003; Hatcher, 2004; Jones & Lopez, 2006).
For women whose PMS symptoms have a significant, negative impact on their daily life,
a diagnosis of premenstrual dysphoric disorder (PMDD) could be made according to the
criteria set by the American Psychiatric Association's DSM-IV (1994).
How many women suffer from premenstrual syndrome? According to Jones and
Lopez (2006) around 70% - 90% of U.S. women suffer from some kind of physical and/or
emotional symptoms associated with their menstrual cycle. Around 20% to 30%
experience moderate to severe PMS, while another 1% - 10% are debilitated by the
severity of their symptoms (Hatcher et al., 2004).
What mechanisms cause premenstrual syndrome? The truth of the matter is that
nobody really knows what the exact mechanisms underlying many of the symptoms
associated with PMS are. However there are a number of researched-backed theories
which offer some insight on this physiological/psychoemotional phenomenon. PMS is
understood as a result of various neurochemical and physiological interactions that take
place due to the cyclic dispersal of gonadotropins. Due to the interactions between the
brain and secreted hormones, it is generally agreed that the ovaries, and in particular the
corpus luteum, are at the root of PMS (Backstrom et al., 2003; Freeman et al., 2001;
Jones & Lopez, 2006).
The corpus luteum forms in the follicular cavity left by the expelled egg during
ovulation. This process occurs during the second half of the menstrual cycle. Lutenizing
hormone (LH) peaks during ovulation and is understood to be the primary compound
responsible for the formation and function of the corpus luteum, which is to secrete
progesterone and estradiol (Jones & Lopez, 2006). The hormones secreted prime the
uterus for the possible implantation of a fertilized ovum. If the egg is not fertilized the
corpus luteum disintegrates, during which time PMS symptoms also disappear (Freeman
et al., 2001). If however, fertilization does occur, the corpus luteum continues producing
progesterone and estradiol until the developing embryo takes over the process of
hormone secretion. Research has found that during anovulatory cycles, such as those
induced by the use of some oral contraceptives, or for any other reason, the corpus
luteum is not formed and PMS symptoms are either improved or absent (Hamarback &
Backstom, 1988; Mortola, Girton, & Fisher, 1991).
Estradiol, progesterone and progesterone metabolites appear to be the primary
catalysts for experiencing PMS in susceptible women. I mention PMS susceptibility
due to the fact that not every woman will ever experience PMS, and research has shown
no difference in progesterone and estradiol levels between women who suffer from PMS
and those who do not (Backstrom et al., 2003). With regard to PMS, levels of estradiol
and progestogens appear to affect the GABA and serotonin systems, but also have been
shown to influence norepinephrine and endorphin production (Jones & Lopez, 2006).
How this gonadotropin influence on the GABA system and serotonin levels works to
produce symptoms of PMS is not completely understood yet. However, when women
suffering from PMS are given selective serotonin reuptake inhibitors (SSRIs), a
significant decrease in PMS symptoms is produced (Kouri, E. M. & Halbreich, U., 1997).
What treatment options are available for PMS? As was mentioned, SSRIs have
been shown to be effective in treating the psychoemotional symptoms of PMS, and have
been shown to improve some women's physical symptoms as well (Hatcher et al., 2004).
Of course the specific kind of SSRI used, such as fluoxetine (Prozac), alprazolam
(Xanax), or sertraline, would impact the specific symptoms alleviated. With regard to
dosage, SSRIs have been found to be effective when taken continuously, but also can be
taken in a cyclic manner, such as only during the last 14 days of the menstrual cycle (Backstrom et al., 2003; Hatcher et al., 2004). However, one of the most common side
effects of using SSRIs is sexual dysfunction.
Another route in the treatment of PMS is administering high doses of gonadotrophinreleasing hormone (GnRH) agonists (Jones & Lopez, 2006). The use of GnRH agonists result in extremely low progesterone and estrogen blood serum levels, thereby causing a reduction in the secretion of follicle-stimulating hormone (FSH) and LH by the pituitary gland (Freeman et al., 2001). Due to the reduction of FSH and LH, anovulation and amenorrhoea result. Anovulation means not ovulating, while amenorrhoea refers to a cease of menstruation. Both physiological and psychoemotional symptoms are alleviated using this method of treatment. The primary drawbacks of using GnRH agonists in the treatment of PMS are a loss of bone density, possible impairment in cognitive
functioning, and postmenopausal symptoms (Backstrom et al., 2003).
Surgical oophorectomy is yet another option. Performing an oophorectomy means that
the ovaries are completely removed. Although this treatment method for PMS is drastic
and should only be used when all other options have been exhausted, substantial
reduction of symptoms have been documented (Backstom et al., 2003).
It should be mentioned that many of the treatment options being reviewed are intended
to treat severe forms of PMS, there are many less-drastic options available as well.
Exercise and dietary manipulations have also been shown to reduce symptoms for those
experiencing mild forms of PMS. Minimizing consumables such as alcohol, caffeine,
sugar and salt have been found to help (Jones & Lopez, 2006). Vitamin therapy has also
shown promise. In particular, vitamin B6 has shown to produce significant improvement
in PMS symptoms (Abraham & Hargrove, 1980). However, other studies have indicated
no such improvement using vitamin B6 (London & Bradley, 1991). Of course there's
always Midol.
In addition there has also been research pointing to the effectiveness of an extract of
the chaste tree or chasteberry. In a randomized, placebo controlled study by Schellenberg
(2001), 178 women who experience PMS were either given a chasteberry tablet or a
placebo pill once daily. Participants taking the chasteberry tablets communicated a
significant improvement in PMS symptoms on 5 of the 6 self-assessment items.
Alleviated symptoms included irritability, anger, mood-alteration, headache and breast
swelling. The only symptom not relieved was bloating (Huddleston & Jackson, 2001).
To begin to answer the question posed at the beginning of this paper, we will now
review the use of oral contraceptives in the treatment of PMS. Theoretically, oral
contraceptives should decrease PMS symptoms since they inhibit ovulation. This is
accomplished by giving the female body a constant, and somewhat elevated, dose of
estrogen, progesterone, or a combination of both (Jones & Lopez, 2006). Estrogen
inhibits ovulation, while progesterone thins the endometrium and thickens cervical
mucous (Hatcher et al., 2004). However, simply inhibiting ovulation does not appear to
be the cure-all for PMS sufferers.
Research has found that oral contraceptives containing estrogen are often effective in
alleviating physical symptoms, but not psychoemotional symptoms, and add insult to
injury by decreasing sexual interest (Backstrom et al., 2003; Graham & Sherwin, 1992).
Progesterone-only contraceptives all seem to result in negative mood changes and
physical symptoms (Backstrom et al., 2003). In general various treatments using
estrogens and progestogens have produced inconsistent results with regard to alleviating
PMS symptoms (Bancroft & Rennie, 1993; Hatcher et al., 2004; Jones & Lopez, 2006).
What role do oral contraceptives play in the experience of PMS? Evidence from
studies examining the effects of postmenopausal, or post-oophorectomy hormone
replacement therapy (HRT), point to a primarily neurochemical basis for PMS
(Backstrom et al., 2003; Casper et al., 1990). Literature indicates an interaction between
hormones and the brain's response systems. Women with a history of PMS, who had
undergone both a surgical oophorectomy and a hysterectomy, could be safely be given
estrogen-only replacement therapy without experiencing a reoccurrence of symptoms
(Feeman et al., 2001).
With regard to GnRH agonist therapy, women whose symptoms improved
significantly all suffered a re-occurrence of PMS when estrogen and progesterone replacement therapy was administered (Mortola, Girton, & Fischer, 1991; Mezrow et al., 1994). It is the combination of estrogen and progestin that appears responsible for the experience of symptoms associated with PMS. Estrogen alone does not appear to create PMS symptoms. The question then is, why not just use estrogen only pills? There is, in fact, a very good reason not to. Due to the strong correlation between estrogen replacement
therapy (ERT) and endometrial cancer, adding progestogen is advised due to studies
indicating that its addition significantly decreases the risk for such cancers (Jones &
Lopez).
In conclusion, PMS symptoms are not solely the result of hormonal fluctuations due to
a woman's menstrual cycle. This is why women with a history of PMS still experience
symptoms even when their hormonal systems are kept in contraceptive-based homeostasis and they are not ovulating. The mechanisms producing PMS are much more complex than that. The experience of PMS is due to the way in which certain women's bodies process
neurochemical agents, in particular a combination of estrogen and progesterone.
However there does seem to be a degree of psychosomatic influence indicated by high
placebo response rates in many studies on the treatment of PMS and PMDD (Freeman &
Rickels, 1999; Freeman et al., 2001; Yonkers, Clark & Trivedi, 1997).
Is the end of menstruation and PMS in the foreseeable future? With recent
advances in oral contraceptive technology, such a possibility may already be a reality. As
far as eliminating menstruation, there are already a few products on the market such as
Seasonale that can be taken for 84 consecutive days. After the 84 days of taking the pill,
seven days of placebo pills are given to promote a progesterone cycle withdrawal bleed.
Even in the light of side effects such as spotting, in 2004 sales for Seasonale were around
$87 million (George, 2005).
Two new oral contraceptives, Anya and Belara both promise to give women complete
choice over menstruation. Both can be taken 365 days a year without the need for
placebos. Unless the user wants to experience a withdrawal bleed, which they could for a
variety of reasons, they do not have to (Bitzer, 2005; George, 2005). Although both Anya
and Belara claim to lessen, or even eliminate symptoms associated with PMS, further
research is needed to ascertain whether both forms of contraceptive can actually live up
to that claim. As we have learned, simply producing a state of anovulation and
amenorrhea does not necessarily translate into an absence of PMS. Although our
understanding of PMS continues to advance, it is evident that we still have a lot to learn.
References
Abraham, G. E., & Hargrove, J. T. (1980). Effect of vitamin B6 on premenstrual
symptomatology in women with premenstrual tension syndrome: A double-blind
crossover study. Infertility, 3, 155-165.
American Psychiatric Association (1994). Diagnostic and statistical manual of mental
disorders (4th ed.), 714-718, Washington, DC: American Psychiatric Association.
Backstrom, T., Andreen, L., Birzniece, V., Bjorn, I., Johansson, I., Nordenstam-Haghjo,
M., Nyberg, S., Sundstrom-Poromaa, Wahlstrom, G., Wang, M., & Zhu, D. (2003).
The role of hormones and hormonal treatments in premenstrual syndrome. CNS
Drugs, 17, 5, 325-342.
Bancroft, J., Rennie, D. (1993). The impact of oral contraceptives on the experience of
perimenstrual mood, clumsiness, food craving and other symptoms. Journal of
Psychosomatic Research, 37, 195-202.
Bitzer, J. (2005). Belara - proven benefits in daily practice. The European Journal of
Contraception and Reproductive Health Care, 10(supplement 1), 19-25.
Casper, R. F., Hearn, M. T. (1990). The effect of hysterectomy and bilateral
oophorectomy in women with severe premenstrual syndrome. American Journal of
Obstetrics and Gynecology, 162, 105-109.
Freeman, E. W., Kroll, R., Rapkin, A., Pearstein, T., Brown, C., Parsey, K., Zhang, P.,
Patel, H., & Foegh, M. (2001). Evaluation of a unique oral contraceptive in the
treatment of premenstrual dysphoric disorder. Journal of Women's Health & Gender
Based Medicine, 10, 6, 561-569.
George, L, (2005). The end of menstruation. Maclean's, 118, 50, 40-46.
Graham, C. A., & Sherwin, B. B. (1992). A prospective treatment study of premenstrual
symptoms using a triphasic oral contraceptive. Journal of Psychosomatic Research,
36, 257-266.
Hamarback, S., & Backstrom, T. (1988). Induced anovulation as treatment of
premenstrual tension syndrome: A double-blind cross-over study with GnRH-agonist
versus placebo. Acta Obstet Gynecol Scandinavia, 67, 159-166.
Hatcher, R. A. (2004). Contraceptive technology (18th ed.) San Francisco, CA:Ardent
Media Inc.
Huddleston, M., & Jackson, E. A. (2001). Is an extract of the fruit of agnus castus
(chaste tree or chasteberry) effective for prevention of symptoms of premenstrual
syndrome (PMS)? The Journal of Family Practice, 50, 4, 298-298.
Jones, R. E., & Lopez, K. H. (2006). Human reproductive biology (3rd ed.) San Diego,
CA: Academic Press.
Kouri, E. M., Halbreich, U. (1997). State and trait serotonergic abnormalities in women
with dysphoric premenstrual syndromes. Psychopharmacological Bulletin, 33, 767
770.
London, R. S., & Bradley, L. (1991). Effect of a nutritional supplement on premenstrual
symptomatology in women with premenstrual syndrome: A double-blind longitudinal
study. Journal of the American College of Nutrition, 10, 494-494.
Mezrow, G., Shoupe, D., Spicer, D., Lobo, R., Leung, R., & Pike, M. (1994). Depot
leuprolide acetate with estrogen and progestin add-back for long-term treatment of
premenstrual syndrome. Fertility and Sterility, 62, 932-932.
Mortola, J. F., Girton, L., & Fischer, U. (1991). Successful treatment of severe
premenstrual syndrome by combined use of gonadotropin-releasing hormone agonist
and estrogen/progestin. Journal of Clinical Endocrinol Metab, 72, 252 A-F.
Schellenberg, R. (2001). Treatment for the premenstrual syndrome with agnus castus fruit
extract: Prospective, randomized, placebo controlled study. BMJ, 322, 134-137.
Sveinsdottir, H., & Backstrom, T. (2000). Menstrual cycle symptom variation in a
community sample of women using and not using oral contraceptives. Acta
Obstetricia et Gynecologica Scandinavica, 79, 9, 757-764.
Question: Is Frigidity Real?
A little background about the word "FRIGID"
Before I get into whether the condition of frigidity is real or not, it's important to inform that the word "frigidity" is an outdated, sexist term.  There was a time in most world societies (not that long ago to be honest) that women were more likely to be seen as domestic livestock, as being voiceless, powerless and inherently inferior to men.  Their husbands and boyfriends expected them to demonstrate their appreciation for everything a man provided for them, by enthusiastically, passionately having sex with them whenever it was required.  Now, if for some unknown mysterious reason, women did not actually feel like providing their men with the sexual release those men felt entitled to, they would be labeled as FRIGID, a clinical diagnosis that equated a woman's lack of sexual desire for her provider (her husband or boyfriend)  to a disorder of character. Calling a woman FRIGID was (and is) not a compliment;  it's a pejorative term communicating that a woman is emotionally cold, has low libido, or simply does not respond "appropriately" to her partner's sexual advances.
It is also important to understand that only women could be labeled "Frigid" since it was also believed that the nature of men made it impossible for them to NOT want to engage in sexual activity whenever they could.  This outdated and completely un-evolved social norm equates a couple's relationship to that of a business transaction;  where one person makes the money and puts food on the table, while the other takes care of the children, domestic chores, and most importantly, provides sexual services regardless of sexual desire.  Unfortunately, such gender-role based beliefs are still commonplace throughout the world.  Not that I'm saying there doesn't need to be a balance of contribution to a couple's financial and domestic efforts; I'm just saying that sexual activity should never be an expected component of any romantic relationship's accounting system (aka, the relationship LEDGER).
Hypoactive Sexual Desire Disorder
These days, a lack or absence of sexual desire and/or sexual fantasies, which causes marked distress or interpersonal difficulties (and cannot be better accounted for by another mental disorder, a drug, or some other medical condition) is called Hypoactive Sexual Desire Disorder (HSDD), not FRIGIDITY.  HSDD is listed in the DSM-IV under "Sexual and Gender Identity Disorders".  HSDD can have a variety of emotional and physical causes for men, women and trans-identified individuals.  It is extremely important to understand that in order to be diagnosed with HSDD, your lack or absence of sexual desire and/or fantasies has to cause YOU significant personal distress and interpersonal difficulties. 
If your lack of sexual desire doesn't bother you at all, maybe you're simply Asexual.  Asexuality is a sexual orientation characterized by an overall lack of sexual desire and/or sexual fantasies.  And although Asexual individuals may be emotionally attracted to others, they simply have no desire to engage in sexual activity with them.  Let's say that we've ruled out Asexuality as being the root of a person's lack of sexual desire, as previously stated, HSDD can have a variety of emotional and physical roots. 
Examples of emotional causes of HSDD:
-        Low self-esteem, negative body image, lack of confidence
-        Fear of pregnancy or sexually transmitted diseases
-        Situational factors such as parents sleeping in the next room, an intoxicated partner,   
          or lack of adequate privacy
-        Emotions such as depression, guilt, anxiety, or boredom in the relationship
-        Physical/sexual intimacy inhibitions linked to religious or personal taboos
-        Communication problems, an argument or an unresolved emotional issue in the
          relationship
-        Feeling emotionally distant from a partner
-        Past traumatic sexual experience such as rape, incest, or sexual assault
Examples of Physical Causes of HSDD:
-        Pain or discomfort during sexual intercourse (dyspareunia)
-        Vaginal dryness
-        Lack of adequate foreplay
-        Poor sexual performance from one's partner
-        Fatigue or exhaustion
-        Insomnia
-        Side effects of prescription medications
-        Side effects of alcohol or substance abuse
-        Changes related to menopause or hormonal imbalance
-        Damage to nerves as a result of trauma or surgery (ex., hysterectomy, prostate
          surgery, etc.)
-        General infections, sexually transmitted infections
-        Gynecological problems and erection difficulties
In addition to the variety of emotional and physical causes of Hypoactive Sexual Desire Disorder listed above, a lack of sexual desire may also be linked to low levels of testosterone in males, females and trans-identified individuals.  Testosterone levels and one's sex drive go hand in hand.  The more testosterone one has in one's blood stream, the more likely they are to have a high sex drive (libido).  However, even high levels of testosterone can be negated if a person is dealing with one or more of the physical and/or emotional causes of HSDD.  This brings me to another important point to make; you don't necessarily have HSDD simply because you are experiencing a lack of sexual desire.  Having a lack of sexual desire from time to time is completely normal, regardless of your gender.  Stress, painful skin conditions, lack of sleep, lack of reciprocity from your partner, and body image issues are all common reasons why people periodically have no interest in sex.  There is really no such thing as a "normal" sex drive.  Sex drives are as individually based as physical attraction templates; it's all about what is "normal" for each individual.
How do you treat low libido or HSDD?
First off, it's important to differentiate HSDD from normal, periodic decreases in libido, or a lack of sexual desire.  It's really only a diagnosable problem if it's causing serious and persistent personal and/or interpersonal distress.  Once you've ruled out any physical/medical cause (ex., pharmaceutical side effect, blood pressure/blood flow issues, etc.), it is important to investigate for possible emotional/relational roots to the problem.  This is typically achieved through individual and couples counseling and/or sexual therapy.  One of the initial areas of a person's life that gets a lot of attention is their relationship, intimacy, and communication issues.  Healthy, honest, and open communication patterns are vital for any happy relationship, sexual or not. 
In a romantic relationship, non-sexual intimacy and sexuality education is almost always a primary component in the treatment for low sexual desire or HSDD.  Sometimes the problem is rooted in unrealistic perceptions of what defines a "normal" sexual experience, with people feeling that either their partner is not living up what they think is normal, or feeling that they, themselves, are unable to live up to their own expectations of what constitutes an ideal sexual performance.  This performance anxiety around sexual activity is often linked to something called "spectatoring," in which the person isn't completely within them-self experiencing the sexual act. Instead they are partly outside of themselves, critically judging their performance based upon internalized sexual norms; norms that often come from pornographic material such as videos and magazine articles.  The problem with judging one's sexual "performance" based on porn has two major problems, 1) Porn sex is not realistic and often completely sexist and misogynistic, and 2) When you are outside of yourself, judging your performance, you are not in the present, actually enjoying the sex you are having!
If a clinician thinks that part of the problem is a result of stress, stress-reduction techniques will often be taught.   If it's a self-esteem problem or a body image distortion, such issues will likely be addressed before tackling a person's sexual dissatisfaction.  If however, as is often the case with heterosexual couples, the problem appears to be rooted in a sense of gender inequality, or due to the way each person in a couple attaches meaning to sexual activity, then couple's counseling/therapy will need to focus on those issues.  Treating low sexual desire or HSDD can incorporate individual and/or couple therapy, hormonal testing and treatment, and/or addressing other medically based causes. 
Conclusion
I chose to equate Hypoactive Sexual Desire Disorder with the outdated concept of "Frigidity" for a couple of reasons.  Frigidity was almost always associated with a lack of sexual desire, and although it was primarily used to label women who did not want to have sex with the men they were in relationships with, HSDD addresses this lack of wanting for all genders.  I also chose HSDD because others "problems" of sexuality like premature ejaculation, erectile dysfunction, anorgasmia, dyspareunia, and sexual aversion disorder are sometimes the root of HSDD, but are also issues/conditions that can be unrelated to sexual desire and deserve their own time in the spotlight.
So, to answer the question posed by one of my students, "is frigidity real", I'd have to say NO and YES.  No, frigidity is not real in that it is a value-laden sexist term that basically summarized the frustration of misogynistic men who felt entitled to their female partner's body and sexuality whenever they wanted it.  And yes, low sexual drive is very real.   However, its origins can be rooted in a complex web of relational, physiological and emotional factors.  My advice to any man, or woman, or trans-identified individual who has a partner that doesn't seem to be interested in having sex with them, is to communicate.  Ask them what is going on.  Let them know you are willing to do whatever it takes to be a part of the solution.  If that means couples therapy, do it!  If it means being there for your partner as they work through emotional/physical trauma, do it!  If it means widening your sexual repertoire to include new positions, new ways of communicating and/or expressing your sexuality, do it!  If it means honoring a request to brush your teeth or to take a shower before having sex, do it!  And most importantly, if it means redefining what you expect of your partner and yourself, regarding rigid, oversimplified and often sexist gender role ideologies, for goodness sakes, do it.  I guarantee that the more you are willing to care about your partner's sexual and emotional health, the better your sex life will become:)
References
American Psychiatric Association. (2000). Diagnostic and statistical manual of mental disorders (4 ed., text revision). Washington, DC: Author.
Hall, K. (2004). Reclaiming your sexual self: How you can bring desire back into your life. Hoboken, NJ: Wiley.
Lazarus, A. A. (1963).  The treatment of chronic frigidity by systematic desensitization. The Journal of Nervous and Mental Disease, 136(3), 272-280.
Masters, W. H., & Johnson, V. E. (1966). Human sexual response. Boston: Little, Brown.
Masters, W. H., & Johnson, V. E. (1970). Human sexual inadequacy. Boston: Little, Brown.
Masters, W. H., & Johnson, V. E. (1974). The pleasure bond. Boston: Little, Brown.
Masters, W. H., Johnson, V., & Kolodny, R. C. (1992). Human sexuality (3 ed.). New York: Harper Collins.
McCarthy, B., & McCarthy, E. (2003).  Rekindling desire: A step-by-step program to help low-sex and no-sex marriages. New York: Brunner/Routledge.
Q:  What are hormones? 

A:   Although there are a variety of hormones pumping through the veins of males and females at any given time, let's keep it simple and focus on the major classifications of the hormones involved in sexual differentiation: Androgens and estrogens. Androgens is the generic term for the hormones that promote the development and functioning of the male reproductive system. Estrogens is the generic term for the hormones that stimulate functioning and maturation of the female reproductive system.  Both classes of female and male hormones are present in the bodies of males and females, but in drastically different amounts.  

The primary "male" hormone is testosterone. Most men produce 6-8 milligrams of testosterone (an androgen) each and every day, compared to the typical woman who produces about 0.5 milligrams daily.  Females hormones, also known as estrogens, are also present in both sexes, but of course, in larger amounts for women.  

Estrogens are the sex hormones that are produced mainly by a female's ovaries that stimulate the maturation of secondary sex characteristics.  Secondary sex characteristics include the growth of a female's reproductive organs, as well as her breasts and pubic hair.  Estrogens also regulate the functioning of a female's menstrual cycle.   Estrogens do not play a significant role in a female's level of sexual desire, however, they are important in maintaining the health of the vaginal lining and elasticity, producing vaginal lubrication, and in preserving the texture and function of a woman's breasts (i.e., lactation during and after pregnancy).  

Estrogens have no known function in men. However, an unusually high level of estrogen in men may reduce sexual desire, create erectile difficulties, may produce some breast enlargement, and can result in the loss of body hair in some men.  Androgens are sex hormones primarily produced by a male's testes, but are also produced in the adrenal gland of both sexes, as well as in small amounts by the female's ovaries.  

Androgens (like testosterone) help to initiate the development of the testes and penis in the male fetus.  They trigger the start of puberty and influence muscle development, the growth of facial, body and pubic hair, and cause a male's voice to deepen.  Together, all of these pubertal changes taking place in a male's body are called secondary sex characteristics. Research has also provided evidence that pre-natal hormonal exposure influences brain development; creating some of cognitive differences among males and females, as well as being instrumental in the biological foundations of sexual orientation.  

During and after puberty, androgens, specifically testosterone, play a significant role in the regulation of an individual's sex drive. Large deficiencies of testosterone may cause a drop in sexual desire, and excessive testosterone levels may heighten sexual desire in both males and females.  However, testosterone levels within the normal range have little effect on either sex's sexual interest.  An individual's sex drive is much more likely to be influenced by psychological and emotional factors, as well as external stimuli (i.e., sights, sounds, smells, and touch).  

One last hormone-fact regarding testosterone in men deserves to be mentioned.  Research has found a link between high levels of testosterone and balding in men.  Men with high levels of testosterone also produce large amounts of cortisol. Cortisol is a steroid (aka androgen) hormone that is released in men due to high stress levels, which in turn, has been linked to testosterone levels.  Cortisol inhibits follicle growth by continually weakening the root cells of hair follicles on a man's head.  Since higher levels of testosterone in men is also related to greater athletic ability, stamina and sexual desire, it is not surprising that male-pattern balding is so prevalent throughout the world.  Men with a lot of testosterone often do not find it difficult finding mates.  

References  

Joannides, P., & Gross, D. (2009). Guide to Getting it On: For Adults of All Ages (6      ed.). Saline, MI: McNaughton & Gunn.  

Poor, V., Juricskay, S., & Telegdy, E. (2002).  Urinary steroids in men with male-pattern      alopecia. Journal of Biochemical & Biophysical Methods, 53(1-3), 123-131.  

Savin-Williams, R., & Diamond, L. M. (1997).  Sexual orientation as a developmental context for lesbians, gays, and bisexuals: Biological perspectives. In Uniting psychology and biology: Integrative perspectives on human development. Segal, Nancy L., Weisfeld, G. E., & Weisfeld, C. C. (Eds.); pp. 217-238. Washington, DC, USA: American Psychological  Association.  
It is important to know that in most cases, STIs (sexually transmitted infections) do not cause any outwardly noticeable symptoms.  It is common for a STI to go unnoticed for years before exhibiting any noticeable symptoms; whereas internally, it may be wreaking havoc on one's reproductive system and/or other organs.  Infections are only called diseases when they cause symptoms.  This is why STDs are also referred to as "sexually transmitted infections."  

Nearly half of all sexually active people will be infected with some kind of STI during their lifetime.  The good news is that we can all protect ourselves, and our intimate partners, from STIs by practicing safer sex.  No form of sexual activity is completely safe, however, practicing safer sex allows you to reduce your risk of contracting a sexually transmitted disease.  The most common and easiest way to practice safer sex is by using condoms every time we engage in sexual activity (i.e., penis-vagina, penis-anus, penis-mouth, vulva-mouth).  In reality the best way to protect oneself from STIs is through abstinence.  

Herpes

Although there are a few STIs that can produce symptoms in and around the mouth, the most common STI that can cause such symptoms is Herpes.  There are two forms of Herpes, HSV-1 and HSV-2.  HSV-1 can cause genital herpes, but it is more commonly associated with infections of the mouth and lips (also called cold-sores or fever blisters).  It is also important to understand that HSV-1 is not typically caused by sexual activity.  However, a person with HSV-1 that engages in oral sex with a partner can transmit herpes to their partner's genitals, especially if herpes blisters are present.  

Genital herpes is primarily caused by infection of the HSV-2 virus.  It is common for people who have HSV-2 to have no, or only minimal signs or symptoms of infection.  When symptoms do occur, they typically appear as one or more tiny blisters on or around the genitals or anus.  Females are more susceptible to HSV-2 transmission through sexual contact with males, than are males through sexual contact with females.  In other words, males can transmit herpes more easily to females than females can to males.  

Although most people infected with HSV-2 are not aware of their infection, if symptoms do occur, it usually takes place within two weeks of becoming infected.  Small painful blisters may appear on or around the genitals, anus or mouth, and typically take about two to four weeks to heal.  The first outbreak of herpes may also be accompanied by a fever or flu-like symptoms.  After the initial outbreak, those infected with HSV-2 can expect to experience recurrent breakouts four or five times a year.  

Treatment for Herpes

Herpes can be diagnosed through a visual inspection by a health care provider.  The health care provider may also take a sample from the herpes sores to be tested in a laboratory.  Once diagnosed with herpes there are antiviral medications that can shorten and/or prevent outbreaks while a person is taking such medication.  However, herpes has no cure, and although symptoms may disappear, it is always possible to spread herpes to others.  Even using a condom during sexual activity is not 100% effective, since herpes can be transmitted through the skin around the genitals, anus, and mouth.   
Human Papillomavirus (HPV) - Genital Warts 
Genital warts are growths on the skin of the genital area and around the anus, that are caused by certain types of the human papilloma virus (HPV).  There are more than 100 types of HPV.  Some can lead to certain cancers (ex., cervical cancer, cancer of the penis), and some produce genital warts.  

Genital wart symptoms are typically flesh-colored, soft bumps on the skin that resemble the surface of a cauliflower. They often grow in more than one place and may cluster in large masses.  Often genital warts are painless, but they may itch.  Although it is not common, genital warts can appear in the mouth, on the lips, tongue, palate, or in the throat.  The most common areas infected by genital warts are the vagina, vulva, cervix, penis, anus or urethra.  

Treatment for Genital Warts

Often, a person's body is able to fight off the virus over time.  If such is the case, the warts will go away with no treatment.  But if one wishes to have them removed, there are a number of genital wart treatments to choose from.  A medical health provider will be able to review the available options.             

Syphilis           

Syphilis is a sexually transmitted disease caused by bacteria.  It can infect the vagina, anus, urethra, penis, as well as the mouth and lips.  Syphilis can become a serious health risk if not treated quickly.             

Syphilis is particularly dangerous since it often produces no symptoms, or such mild symptoms that the infected person doesn't notice.  The most commonly noticeable symptom is a painless sore or open wet ulcer, called a chancre.  Chancres typically appear around three weeks after infection, but they may take up to 90 days to appear. Without proper treatment, chancres may last 3-6 weeks and can appear on the genitals, in the vagina, on the cervix, lips, mouth, breasts or anus.             

As Syphilis progresses it may cause body rashes, often on the palms of the hands and the soles of the feet that can last up to 6 weeks.  Other symptoms include mild fever, fatigue, hair loss, weight loss, swollen glands, headache, and muscle pains.  If left completely untreated, syphilis may lead to serious damage to the nervous system, heart, brain and other organs, and may eventually lead to death.             

Treatment for Syphilis           

A health care provider can do tests to determine if a person has syphilis, whether or not symptoms like chancres are present.  If chancres or a rash on one's palms or soles of their feet are present, a medical provider will test any fluid coming from the sores.  Otherwise, a simple blood test is used for diagnosis.   In the early stages of infection, syphilis is easy to treat.  All one has to do is take an antibiotic.  Of course, it is also advisable for the infected person's sexual partner(s) to also be treated at the same time regardless of whether they have symptoms.  However, it is important to understand that the damage caused in the later stages of infection cannot be undone.  

Final Note

Regardless of whether a person is exhibiting any kind of symptom around their mouth, it is imperative to understand that most STIs do not produce symptoms anywhere on the body.  The most effective way to protect oneself from getting a STI is through abstinence.  If one chooses to be sexually active, the use of condoms during every sexual encounter is imperative in order to practice the safest sex possible.  But remember, no sexual activity can be 100% safe, no matter what precautions one takes, so regular testing for STIs is wise.   

Referenced Resources 

/